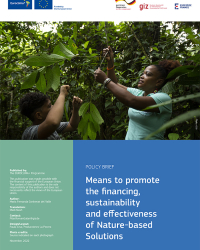 NbS have played a central role in the discussions at the Conferences of the Parties (COPs) in recent years, especially at the COP 26 in Glasgow, Scotland. Despite the fact that NbS are widely recognized as effective measures to address the challenges associated with climate change, there are still some challenges to their implementation.
Among them are challenges related to gathering the necessary data for designing actions, assessing their effectiveness, monitoring benefits, governance for their execution (including the necessary regulatory frameworks) and financing. This policy summary focuses on the challenges associated with promoting and facilitating the financing for NbS that these projects need to address in order to ensure the implementation and sustainability of these measures.
Acceder la síntesis política en español aquí.