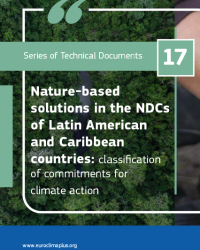 Nature-based Solutions have increasingly gained relevance in the field of climate action, and have been incorporated into countries' climate plans (Nationally Determined Contributions - NDCs).
The EUROCLIMA+ programme proposes a classification to identify and categorise climate actions in NDCs with an SbN approach. An analysis of NDCs of 16 EUROCLIMA+ countries that have submitted updates of their commitments as of June 2022 was carried out.
If you want to read a summary of the report, click here for the factsheet
Aquí se puede acceder al reporte en español.