The project 'Governance of Water and Territory in the Water Region of the Atriz Valley', which is being implemented in the department of Nariño, was presented at the International Environment Fair
- FIMA, as part of the stand of the European Union, guest of honour at this event.
4 October 2021. Bogotá, Colombia. Thousands of people heard about EUROCLIMA+ on behalf of 'Water and Territory Governance in the Water Region of the Atriz Valley - RHVA', the project that represented the Urban Water sector at the International Environment Fair - FIMA, the most important environmental fair that takes place every year in Colombia and that this time took place from 29 September to 2 October in Bogotá, the capital of the country. This year the event counted on the European Union as guest of honour.
Attendees visiting the stand learned about this project, implemented by the French Development Agency - AFD, and led by EMPOPASTO, and also about the water sector projects supported by EUROCLIMA+, through an infographic that was distributed to the attendees on recycled paper, in line with the sustainability objectives proposed within the framework of the fair.
Delegates of the French Development Agency were in charge of telling visitors about the details of this project that will be implemented in the municipalities of Pasto and Tangua in Nariño, and will benefit more than 530,000 inhabitants who will have access to safe, quality drinking water.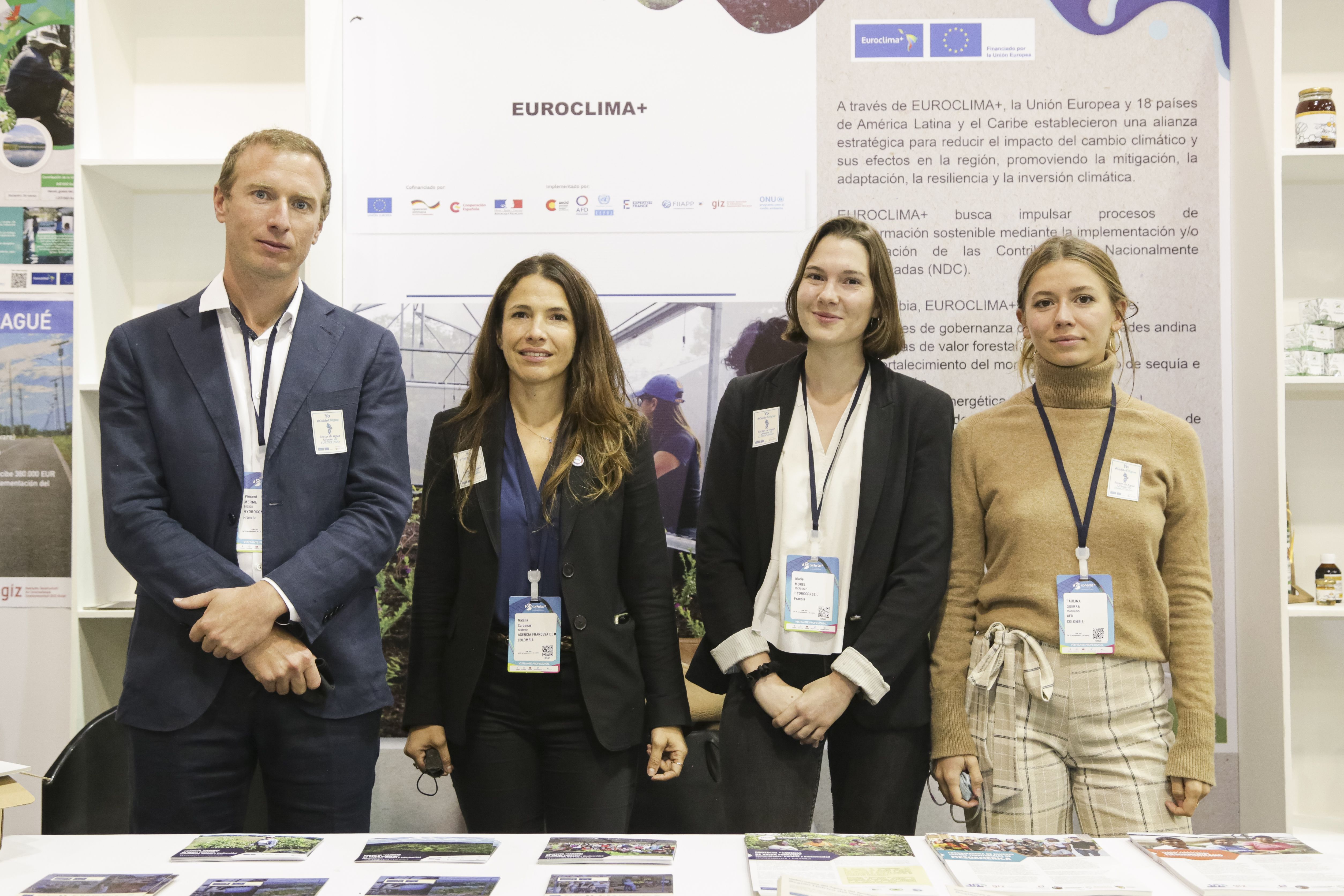 Through brochures, infographics and by presenting the campaign Yo#CuidoElAgua (I#ConserveWater), this project demonstrated the importance of joining efforts with national and international partners to strengthen the resilience of cities to the effects of climate change, and to work for the preservation of water supply basins while strengthening the capacities and governance of institutions.
This is one of the main objectives of Water and Territorial Governance in the RHVA, a project that aims to implement a Territorial Water Agency, linking and articulating the efforts of international cooperation, local authorities, institutions and inhabitants of the region.
EUROCLIMA+ sector Water management with an urban resilience perspective
Through this sector of the EUROCLIMA+ programme implemented by the Spanish Agency for International Development Cooperation (AECID) and the French Development Agency (AFD), a total of seven projects will be implemented. For more information on each project, please visit: https://www.euroclima.org/agua
About EUROCLIMA+
EUROCLIMA+ is a programme funded by the European Union to promote environmentally sustainable and climate-resilient development in 18 Latin American countries, particularly for the benefit of the most vulnerable populations. The Programme is implemented under the synergistic work of seven agencies: the Spanish Agency for International Development Cooperation (AECID), the French Development Agency (AFD), the Economic Commission for Latin America and the Caribbean (ECLAC), Expertise France (EF), the International and Ibero-America Foundation for Administration and Public Policy (FIIAPP), the German Society for International Cooperation (GIZ), and UN Environment.
Contacts
For more information about EUROCLIMA+, contact Alexandra Cortés: This email address is being protected from spambots. You need JavaScript enabled to view it.
For information about the Urban Water sector of EUROCLIMA+, write to This email address is being protected from spambots. You need JavaScript enabled to view it.