The virtual chat Climate resilience and gender equity: implementing best practices and scaling them up to public policies is part of the EUROCLIMA+ Programme's Proposals for action for the agri-food sector in Latin America.
Various countries, 11 March 2021 - Around 67 key stakeholders from the agricultural sector (66% women) as well as six guests from international organisations participated in a panel discussion. Panellists and participants acknowledged that gender inequality in the agri-food sector has increased due to the pandemic and discussed experiences, tools and best practices to reveal concrete actions for integrating a gender approach in the agri-food chain.
The COVID-19 health crisis has worsened the economic crisis and food insecurity in the Latin American region, with a differentiated impact on women, due to wide gender gaps.
Given the urgency of a sustainable, resilient and inclusive post-pandemic recovery, the Virtual Chat on Climate resilience and gender equity: implementing best practices and scaling them up to public policies has aimed to generate proposals from the agri-food sector to promote gender equity with relevant actions in development projects, which can be scaled up to sectoral public policies. In this way, it is hoped to contribute to more effective responses to the impacts of climate change, promoting transformation with equity.
The event began with a thematic introduction on gender equality and climate resilience in the Latin American region, followed by a panel of experts in the region who shared their experiences from practice.
Gender equity and climate resilience:
Rural women in Latin America face structural inequalities and socio-economic policies that limit the value of their productive, reproductive and community work. They have limited access to financial resources, markets, basic services such as health, education, justice, among others, with few opportunities to fully exercise their rights. Of 58 million rural women in the region, 38% have no income of their own, 17 million are registered as economically active and only 4.5 million are considered agricultural producers.
The COVID-19 pandemic has made the gender digital divide more visible in the region: changes in markets and consumption patterns increase women's vulnerability, limiting their informal income. Women are disproportionately affected by environmental degradation and climate change accelerates adverse processes that require sustainable, inclusive and resilient recovery.
The chat's panel of experts were asked the question: "For climate resilience with gender equity you need...", their key messages were:
Manage risk through policies focused on the agri-food sector, such as the Sustainable Agriculture Strategy adapted to climate change for the SICA region (2018-2030), which offers enabling guidelines to reduce gender gaps in the agri-food sector (José Manuel Iraheta, ECLAC).
Disaggregated data to reduce women's vulnerability to climate change by addressing women's entry barriers to accessing public benefits, expanding the coverage of food and nutrition security programmes, improving access to land, water, financial mechanisms, and protection and prevention systems to eliminate gender-based violence (Catalina Ivanovic, FAO).
Address structural barriers in public policies to ensure implementation with a commensurate budget and evaluation systems to ensure effective gender equality actions as a national policy (Fanny Howland, CIAT).
Digital skills training, to ensure that access to and use of digital tools is gender-sensitive, and to reduce the gaps for the digitisation of agriculture as a key element for an equitable recovery from the pandemic (Fátima Almada, IICA).
Environmental education with a gender focus, so that schools focus on orienting children on gender equity for climate resilience in their own communities (Gabriela Olgín, Fondo de Páramos Tungurahua and Lucha contra la Pobreza).
Access to land and capacity building with gender equity, to ensure that women have access to agronomic education, productive resources (seeds, fertilisers) including digital technologies (Jacob Acevedo, PULA).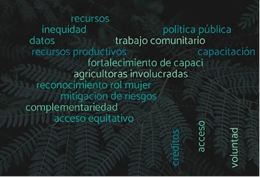 Which factor do you consider most important for achieving gender-sensitive climate resilience in the agri-food sector? Source: Mentimeter
Specific actions proposed
With the thematic inputs, four working tables were then organised for participants to compile proposals for action based on their professional experience towards gender equity and women's empowerment in the agri-food sector. The participants concluded actions around four gender-focused themes: digital literacy, access to products and services, climate ambition and promoting equity for transformative recovery. Thus:
Accelerating digital literacy in the face of the virtualisation of gender-sensitive technical assistance
In an environment of digitisation of technical assistance, there is a need to promote the participation and training of women in the digital processes of agricultural technical assistance, especially those women who are community leaders. Factors that can drive this empowerment include: leveraging the infrastructure of the rural education system (classrooms, equipment, internet), promoting digital literacy through mass media, and fostering public-private partnerships to improve internet access in rural areas. Ensuring inclusive language on digital platforms is a condition that will promote women's use of these platforms.
Facilitating access to services and product offerings
It is also necessary to ensure a gender focus in access to financial services, agricultural insurance and digital solutions in the agri-food sector. A first step in this regard would include the identification of production needs by gender in order to offer appropriate products. Climate risk management products should promote gender-sensitive access, as should agricultural insurance regulations.
As direct protection measures for women, the promotion of subsidies for agricultural insurance for vulnerable populations and the regulation of the application of agrochemicals that affect human health, especially in times of pregnancy or exposure of children, were mentioned. And to ensure an active role for women, better access to knowledge, information and adaptation technologies and to increase women's participation in organisations were pointed out.
Increasing gender-sensitive climate ambition
To increase gender-sensitive climate ambition, it is essential to raise awareness of gender equality in institutions linked to climate policies. Political will must also be directed towards the implementation of resources and actions for adequate gender mainstreaming. To this end, a good starting point would be to carry out baseline studies with a gender perspective in order to understand the needs and opportunities for women's participation in agricultural value chains. Women's participation should also be promoted in scientific fields.
Gender equity for transformative recovery
Finally, the promotion of gender equity as the basis for a transformative recovery involves promoting, educating and raising awareness of women's rights in order to guarantee their protagonism in conditions of equality. Advocacy with a gender perspective would be favoured through the generation of scientific evidence based on statistics and information disaggregated by sex and analysed using a gender perspective, as well as favouring the participation of women in political decision-making levels. Other actions aim to increase economic resources and strengthen human resources with a systemic and intersectional approach targeting public entities and supporting civil society for policy advocacy, monitoring and evaluation.
Panellists and participants in the discussion on Climate resilience and gender equality: implementing best practices and scaling them up to public policy put together the following final recommendations:
Be aware that women are an integral part of the response to climate change, and to different crises such as the COVID-19 pandemic.
Ensuring spaces for women's participation in rural areas must become routine.
Making the value of women's work in the productive and reproductive spheres visible and promoting processes of women's empowerment is key.
Initiating digital literacy processes in rural areas with public-private synergies should be a priority.
About the virtual chat series
In 2021, the Resilient Food Production sector of the EUROCLIMA+ programme is launching a cycle of four virtual conversations to explore issues in the agri-food sector with an impact on public policies: gender equity, monitoring and transparency, financing and climate investment, all of which are highlighted by the projects financed in the sector. The conversations are aimed at implementers of projects funded in the sector and National or Sector Focal Points assigned to the programme and aim to promote the exchange of experiences in participatory formats and systematising lessons learned.
More information: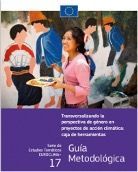 The EUROCLIMA+ programme recognises the commitment of Latin American countries and the European Union to achieve gender equality, and promotes the empowerment of women through the actions and projects that are being implemented.
Download the EUROCLIMA+ Methodological Guide: Mainstreaming the gender perspective in climate action projects: a toolkit
Download the programme for the chats of the RFP sector in 2021
This email address is being protected from spambots. You need JavaScript enabled to view it.
See the video of the chat: