The MTOP, together with AFD and the Spanish-Ecuadorian Association TRN Taryet and A&V Consultants Cia. Ltda., signed the contract for the development of Ecuador's SUMP.
February 2021. Quito, Ecuador - Under the framework of the Euroclima+ programme, financed by the European Union, on December 11, 2020, at the premises of the Ministry of Transport and Public Works (MTOP), a consultancy contract was signed for the development of the National Sustainable Urban Mobility Policy -SUMP of Ecuador as part of the cooperation and support agreement signed on July 22, 2019 between the French Development Agency (AFD) and this Ministry, through which the non-refundable funding of 500,000 euros from the European Union's Euroclima+ Programme was accessed.
Ecuador's SUMP aims to contribute to environmental sustainability and climate change resilient development in Latin America by reducing greenhouse gas (GHG) emissions from the country's urban transport sector, in order to meet the commitments made in the Paris Agreement and the Nationally Determined Contributions (NDCs).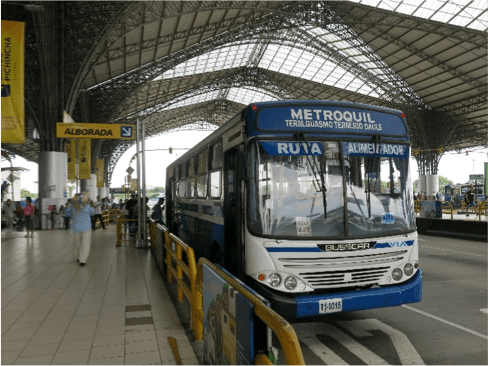 The SUMP strategies include the improvement of technologies; promotion of the use of non-motorised transport; and the planning of land use and sustainable urban mobility, among others; all this through a participatory and socialisation process that will generate general technical guidelines and basic indicators for Decentralised Autonomous Governments (DAGs) to build their local sustainable urban mobility plans.
The strategies will be developed by a Spanish-Ecuadorian partnership over a period of 17 months.
About the French Development Agency
AFD is a not-for-profit, public and charitable bank committed to projects that concretely improve the quality of life of people in developing countries, emerging countries, territories and communities. AFD is active in several sectors in addition to the transport sector, such as sustainable cities, energy, health, biodiversity, water, digital innovation, and education, and it supports the transition towards a safer, fairer and more sustainable world: a world in common. Its action is fully in line with the United Nations Sustainable Development Goals (SDGs). Present in 115 countries through a network of 85 agencies, AFD currently finances, monitors and supports more than 4,000 development projects. In 2019, the AFD will invest nearly €14 billion euros in financing projects in developing countries, territories, and collectivities.
About the EUROCLIMA+ Programme of the European Union
EUROCLIMA+ is a programme funded by the European Union to promote environmentally sustainable and climate-resilient development in 18 countries in Latin America and the Caribbean, particularly for the benefit of the most vulnerable populations. The Programme is implemented under the synergistic work of seven agencies: the Spanish Agency for International Development Cooperation (AECID), the French Development Agency (AFD), the Economic Commission for Latin America and the Caribbean (ECLAC), the German Society for International Cooperation (GIZ), Expertise France (EF), the Fundación International and Ibero-America Foundation for Administration and Public Policy (FIIAPP), and UN Environment.
For more information:
movilidadurbana@euroclimaplus.org