Testimony of Ana Lucía González and Jimena González, from the cantons of Montes de Oca and Curridabat.
The bicycle is a symbol of struggle. In cities that prioritise the private car and fast-paced life, the bicycle allows people to enjoy their journeys and their surroundings in peace and quiet. In a world increasingly affected by climate change, the bicycle is a friendly response that contributes to sustainable mobility. Faced with spaces that have been historically denied, the bicycle allows communities to re-appropriate spaces.
For Ana Lucía González, the bicycle allows people to feel more freedom on the street. For Lucía González, it means demonstrating and demanding the right to be here. In addition to being managers of the EUROCLIMA+ project "Promotion and development of urban cycling in Montes de Oca and Curridabat, Costa Rica", they are both passionate about this two-wheeled vehicle. This is their story:
Ana Lucía González is Vice-Mayor of the municipality of Montes de Oca. She recalls that her first relationship with the bicycle was when her father taught her how to ride one. With her first red bicycle, she felt free to ride around different places with her childhood friends. Now she is working to bring her experience to all citizens of both cantons: connecting neighbourhoods, routes, and people with their environment.
"For me, the bicycle is freedom. That awareness of seeing beautiful surroundings that you don't normally see at the speed of a car".
Jimena González is a psychologist who works with community groups within the municipality of Curridabat. While she considers the need for infrastructure to be indispensable, she values the opportunity of the EUROCLIMA+ initiative to integrate the educational part and generate people-centred actions.
"The bicycle is the possibility of re-appropriating a space that we have been afraid of for a long time. I even think it's a way of demonstrating."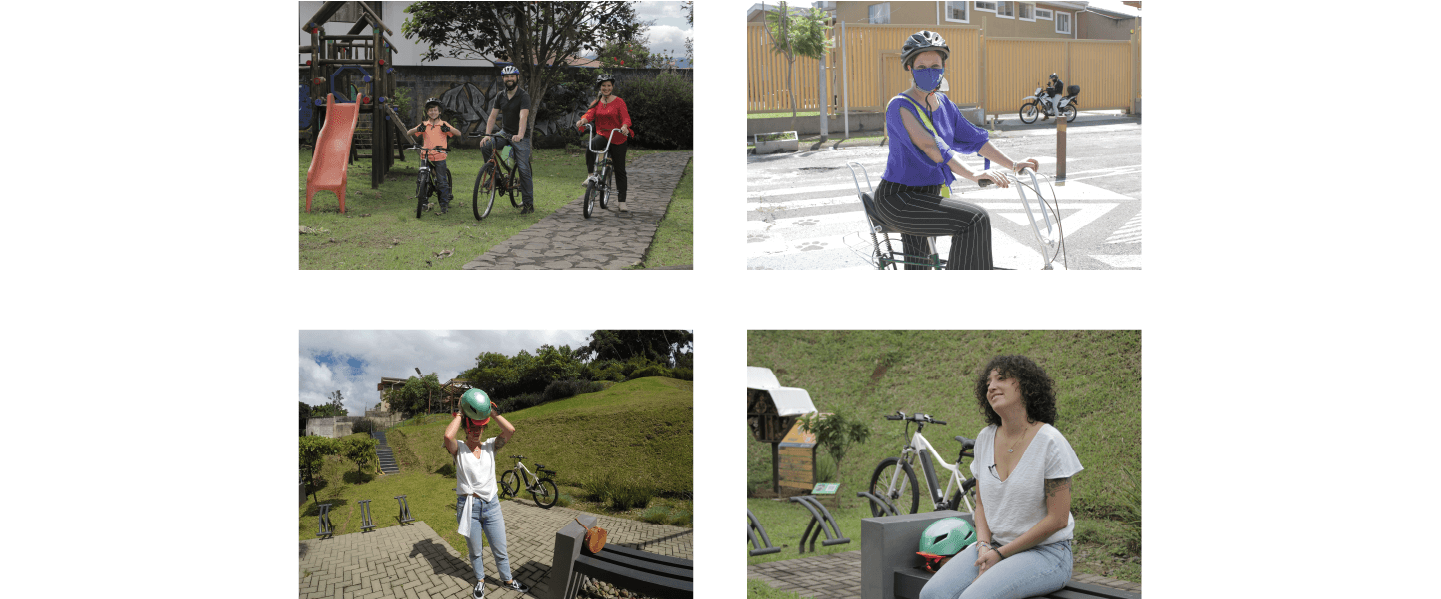 With the project "Promotion and development of urban cycling in Montes de Oca and Curridabat", both cantons work hand in hand to provide safe spaces for sustainable urban mobility.
Climate change does not respect borders or political boundaries, it must be a cause that involves all people. Therefore, the initiative builds inclusive spaces and promotes education that gives bicycling the required importance.
To learn more about the project "Promotion and development of urban cycling in Montes de Oca and Curridabat, Costa Rica", click on the following link.
About EUROCLIMA+
EUROCLIMA+ is a programme funded by the European Union to promote environmentally sustainable and climate-resilient development in 18 Latin American countries, particularly for the benefit of the most vulnerable populations. The Programme is implemented under the synergistic work of seven agencies: the Spanish Agency for International Development Cooperation (AECID), the French Development Agency (AFD), the Economic Commission for Latin America and the Caribbean (ECLAC), Expertise France (EF), the International and Ibero-America Foundation for Administration and Public Policies (FIIAPP), the German Society for International Cooperation (GIZ), and UN Environment.
For more information:
This email address is being protected from spambots. You need JavaScript enabled to view it.euroclimaplus.org
www.euroclimaplus.org