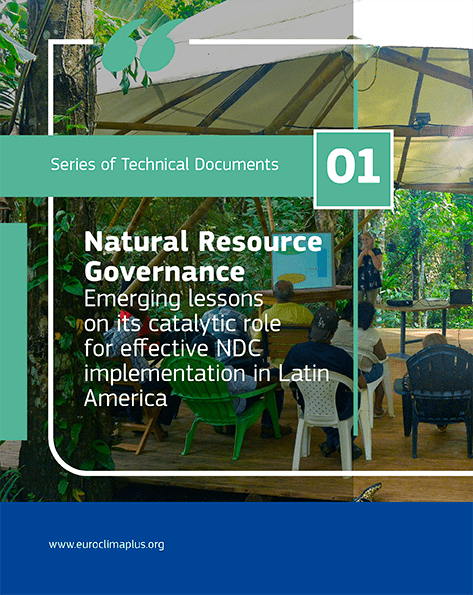 This study pursues the following objectives:
Identify challenges and best practices at the local level related to natural resource governance processes in Latin American countries.
Explore strategic proposals for local actions to contribute to formal and informal multi-level governance frameworks to support NDC implementation.
Promote inputs for South-South exchanges of experience and knowledge among local actors facing similar challenges in Latin America.

In order to understand and demonstrate the multidimensional nature of governance, six case studies of projects implemented in Latin America under the EUROCLIMA+ thematic sector "Forests, Biodiversity and Ecosystems" (BBE) were analysed. These case studies generated evidence on the most important barriers to promote the adoption of a bottom-up approach to natural resource governance.These barriers jeopardise the sustainability and effectiveness of natural resource management and thus its contribution to resolving climate change challenges, also impacting NDC processes. Barriers identified include limited access to information, inadequate capacities for participation in governance processes, limited stakeholder participation, and lack of coordination. The experiences of the six case studies have generated examples of best practices on how to overcome these barriers, drawing on aspects of governance from an NDC approach.